The Aar­nescht has mul­ti­ple biotopes :
Horn­beam — Oak wood
Com­mon beech wood
Ther­mophile oak wood
Pine wood
Black Pine wood
Ther­mophile for­est edge
Semi-arid grass­lands with ero­sion cracks
Molinia wet­land
Orchards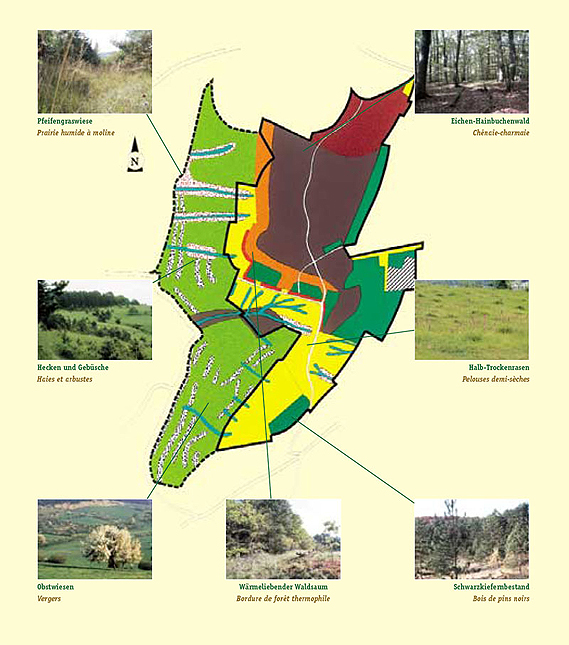 The present biotopes are the result of the spe­cif­ic geo­log­i­cal prop­er­ties as well as the dif­fer­ent human inter­ven­tions. The impor­tance of the semi arid grass­lands with their high lime com­po­nent soil has to be point­ed out. They are to be found in the cen­tre and South­side of the Aar­nescht and show about the major part of the 23 dif­fer­ent orchids of the site (cor­re­spond­ing to 64% of all the present orchids in Lux­em­bourg) and many oth­er rare flo­ra species (for exam­ple 2 kinds of gen­tian or the melampyrum).
Large orchards are cov­er­ing the south-west part of the Aar­nescht and its fruit trees on the low­er slopes stand for the charm­ing beau­ty of the pro­tect­ed site.
On the plateau are extend­ing the horn­beam woods, beech, black pine and pine forestland.
On the west bor­der you can find a com­mon beech wood with a ther­mophile for­est edge just in front of the horn­beam wood. Molinia wet­land devel­oped itself over the years espe­cial­ly on the wet grounds in the ero­sion cracks and trenches.